"The greater danger for most of us lies not in setting our aim too high and falling short, but in setting our aim too low, and achieving our mark." Michelangelo

Giclee prints for sale in our Store/Gallery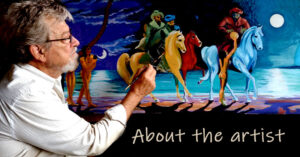 ¡Buenos Días! / Good Morning!
El Jíbaro
El Yunque, protector from Hurricanes
Peace in the Valley
On Earth as it is in Heaven
La Madre Dolorosa
Beato Carlos Manuel Rodríguez Santiago
"Let it be Done"

He is Risen! / ¡Ha Resucitado!
First Visit
It is the Lord!
Peter, do you love me?
Miracle of Our Lady of Guadalupe
St. Michael Archangel
Deo Gratias / I Give Thanks