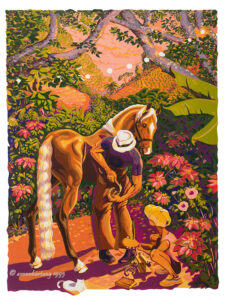 Aun hay Magos / There are still Wise Men
An original limited edition serigraph, by A.Vonn Hartung, depicting the harmony of work, art and nature, and the celebration of hope in the spirit of Christmas. As day moves into night, preparation is made to share in the tradition of Three Kings Day still honored here in Puerto Rico, of bringing gifts and good cheer.
Serigrafía original de edición limitada, de A. Vonn Hartung, que representa la armonía del trabajo, el arte y la naturaleza, y la celebración de la esperanza en el espíritu de la Navidad. A medida que el día avanza hacia la noche, se hacen preparativos para compartir la tradición del Día de los Reyes Magos que todavía se honra aquí en Puerto Rico, de traer regalos y buen ánimo.