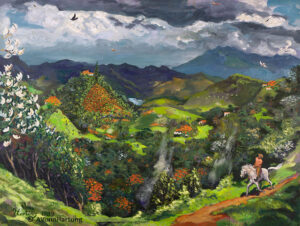 El Yunque, protector from hurricanes
I painted this work the afternoon that Hurricane Hugo was approaching Puerto Rico. I painted until the wind blew the painting off my easel a second time. It was a horrendous hurricane and completely wiped out all the trees. You can see the mountain El Yunque in the distance, where the Taino Indians believed their gods lived and protected the island from hurricanes. It is one of the most visited tourist sites in Puerto Rico.
Pinté esta obra la tarde en que Huracán Hugo se acercaba a la isla. Pinté hasta que el viento sopló la pintura de mi caballete por segunda vez. Fue un huracán horrible y arrasó por completo con todos los árboles. Puedes ver la montaña El Yunque a lo lejos, donde los indios taínos creían que sus dioses vivían y protegían la isla de los huracanes. Es uno de los sitios turísticos más visitados de Puerto Rico.