Leer en Español abajo
It was 49 years ago that we first received an image of ourselves from the Moon. In the process of sending a man to the moon for the first time, Joseph Allen, one of the astronauts who was involved in the planning process recalls:
"Among all the arguments that were made for and against traveling to the Moon, nobody mentioned the possibility that the best reason would be simply to observe ourselves."

Undeniably, that turned out to be the reason. In other words to see ourselves from outside as planet. Thus, when we received the photo of our planet, it was a global revelation that changed the way we think. Thereafter our consciousness has never been the same. Specifically, we saw ourselves as we really are; that is, alone in the vast darkness of space; small, delicate, resplendent with life and divine beauty. Through Him all things were made.
To clarify, it was not until the beginning of the 70's that we began to think about ethics and care of the environment. Generally, only mystics and environmentalists had commented on this. However, since then everything has changed. Significantly, the world has responded with a lot of important reflections. Moreover, we now have the scientific tools, the philosophical and ethical thinking to begin to reason about our responsibility regarding the environment.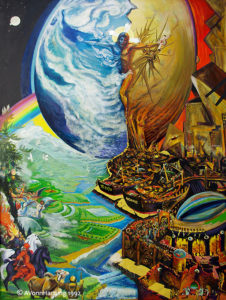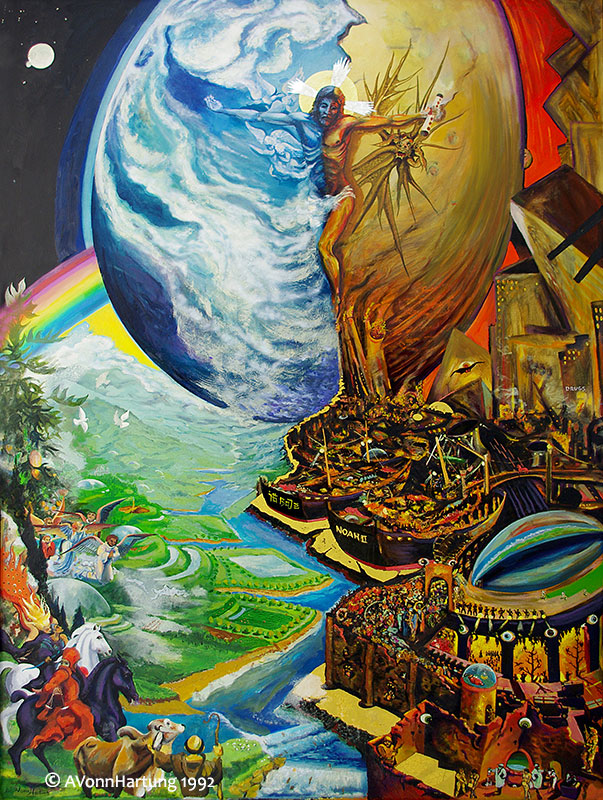 Laudato Si' spells it all out
Correspondingly, I painted this Work (Oil painting on wood panel, 42 x 57″) when I was a member of the Justice and Peace Commission of C.O.R. here in San Juan, Puerto Rico back in 1992. Certainly, I was inspired in part because of the deteriorating environmental conditions on this most delicate island. Specifically, the thoughtless over-development and pollution that was going on, and furthermore the destruction of local communities. Unquestionably Pope Francis' Encyclical Laudato Si' On Care for our Common Home spelled it all out completely. Undeniably,its message was clear and eloquently stated. Hence, it was a theological clarification of what all the science said. Furthermore, for me Hurricane Maria explicitly slammed down the proof of it!

Two possibilities
To summarize, the painting is rhetorical in concept and presents us with two possibilities. That is, one in harmony with God's Creation. In other words, a future of justice, peace and sustainability. The other of plunder, chaos, endless war and an ultimate collapse of nature and life on our planet home as we know it. Earth is painted in the form of an egg. This is to metaphorically symbolize the fragility of Earth's ecosystem as well as her natural abundance and fertility. The metaphor of the egg is also used to show a covenant broken and the resultant rupture of earth's fragile ecology as well as humanity's fall from grace. Indeed, this has been caused by a flawed linear economic system based on the misuse of power and wealth, symbolized by the unholy use of GOLD.
Caring for the environment is a moral issue
There is no doubt about this. We humans have the tools to destroy or save civilization, because God created us with that capability. But he also created us with free will.

Caring for the environment is a moral issue. Through Him all things were made. Pope St. John Paul II emphasized the priority of ethics over technology, and spirit over matter. If we destroy the earth, we destroy the divine creation, we destroy ourselves.

Is that God's plan? Is that our plan?
Por medio de él todas las cosas fueron creadas (Jn 1:3)
Fue hace 49 años que hemos recibido por primera vez una imagen de nosotros mismos desde la Luna. En el proceso de enviar a un hombre a la luna por primera vez, Joseph Allen, uno de los astronautas que estuvo involucrado en el proceso de planificación, recuerda:
"Entre todos los argumentos que se hicieron a favor y en contra de viajar a la Luna, nadie mencionó la posibilidad de que la mejor razón sea simplemente observarnos a nosotros mismos".

Y, esa resultó ser la razón, para vernos desde afuera como planeta. Cuando recibimos la foto de nuestro planeta, fue una revelación mundial que cambió la forma de pensar. A partir de entonces, nuestra conciencia nunca ha sido el mismo. Nos vimos como realmente somos; solo en la inmensa oscuridad del espacio; Pequeño, delicado, resplandeciente de vida, divina belleza.
No fue hasta principios de los años 70 que comenzamos a pensar en la ética y el cuidado del medio ambiente. Esto sólo fue comentado por los místicos y los ambientalistas, pero desde entonces todo ha cambiado. El mundo ha respondido con una gran cantidad de reflexiones importantes. Ahora tenemos las herramientas científicas y el pensamiento filosófico y ético para comenzar a razonar acerca de nuestra responsabilidad con respecto al medio ambiente.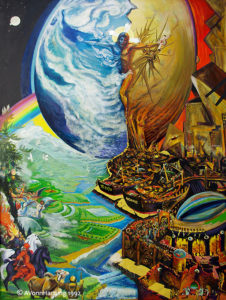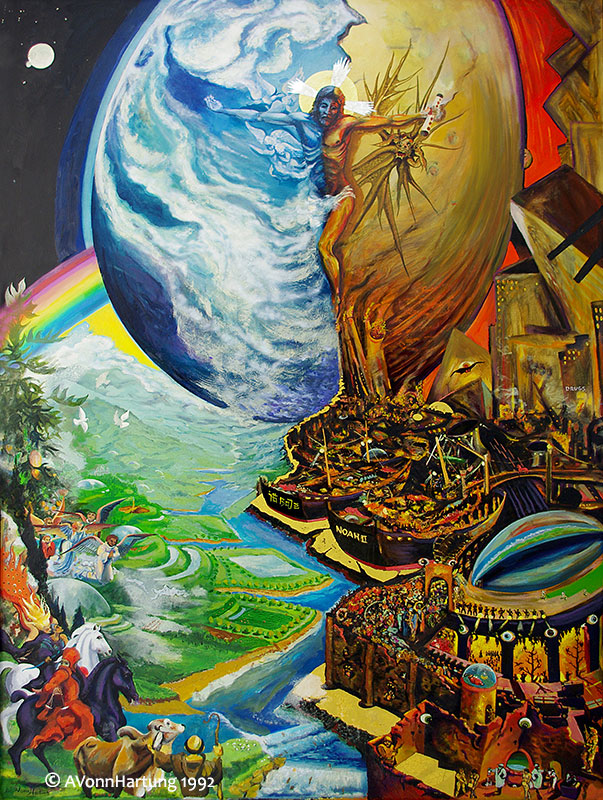 Laudato Si' lo explicó todo

Pinté esta obra (pintura al óleo sobre panel de madera, 42 x 57 ″) cuando era miembro de la Comisión de Justicia y Paz de C.O.R. aquí en San Juan, Puerto Rico en 1992, inspirado en parte por el deterioro de las condiciones ambientales en esta isla tan delicada, el sobredesarrollo y la contaminación irreflexivos que ocurrían, y la destrucción de las comunidades locales. La encíclica del Papa Francisco Laudato Si' Sobre el Cuidado de la Casa Común lo explicó todo por completo. Su mensaje fue claro y dijo de forma elocuente. Fue una aclaración teológica de lo que decía toda la ciencia, y para mí, ¡el huracán María aplastó la prueba de ello!

Dos posibilidades
La pintura es retórica en el concepto y nos presenta dos posibilidades: una en armonía con la Creación de Dios, un futuro de justicia, paz y sostenibilidad. El otro del saqueo, el caos, la guerra sin fin y el colapso final de la naturaleza y la vida en nuestro planeta, tal como lo conocemos. La Tierra está pintada en forma de huevo, simbolizando metafóricamente la fragilidad del ecosistema de la Tierra, así como su abundancia y fertilidad natural. La metáfora del huevo también se utiliza para mostrar un pacto roto y la ruptura resultante de la frágil ecología de la tierra y la caída de la humanidad en desgracia causada por un sistema económico lineal defectuoso basado en el abuso del poder y la riqueza, simbolizado por el uso profano de oro.
Una cuestión moral
No hay duda acerca de esto. Nosotros, los humanos tenemos las herramientas para destruir o salvar a la civilización, porque Dios nos creó con esa capacidad. Pero también nos creó con libre albedrío.

Cuidar el medio ambiente es una cuestión moral. Papa San Juan Pablo II hizo hincapié en la prioridad de la ética sobre la técnica, y el espíritu sobre la materia. Si destruimos la tierra, destruimos la creación divina, nos destruimos a nosotros mismos.

¿Es ese el plan de Dios? ¿Es ese nuestro plan?