Blessed Carlos Manuel Rodríguez was beatified thirteen years ago today on April 29, 2001, by His Holiness (now Saint) John Paul II. Furthermore, "he was the first Puerto Rican, the first Caribbean-born layperson and the first layperson in the history of the United States to be beatified."
At the core of Blessed Carlos Manuel Rodriguez' spirituality (Pope John Paul II said) was his faith in the Resurrection. He promoted the Easter Vigil as the defining moment of Christian spiritual life, repeating often, "We live for that night." (Vivimos para esa Noche)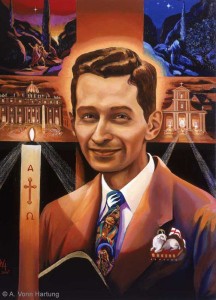 In 2001 I was deeply honored and humbled to be commissioned by the archbishop of San Juan, Monsignor Roberto González Nieves, to paint the official portrait of Blessed Carlos Manuel Rodríguez. Significantly, it was to be given as a gift from Puerto Rico to the Pontifical North American College in Vatican City. Indeed it is exhibited there in the Hall of Saints.
The Portrait is painted with various symbolic elements. They express a visual prayer that "speaks to the eye". In other words, what was it that helped bring Blessed Carlos Manuel Rodriguez to such an intimate connectedness to our Lord and Savior? The absolute serenity and joy in Charlie's look is the faith that we seek. It is the faith that seeks us.
To clarify, that was my second portrait of Blessed Carlos Manuel Rodriguez. Moreover, I had first learned about him from Padre Julio Victor García Padrón. He commissioned me to paint Charlie's portrait in the year 2000 for San Francisco Javier Church in Trujillo Alto, Puerto Rico.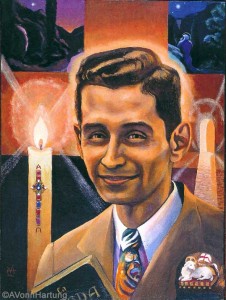 Subsequently this was the painting which later inspired the archbishop of San Juan to commission a portrait for the Vatican.
With this in mind, I painted these portraits within a harmony of interlacing symbolic elements. Consequently, they express an image of prayer, in this case emerging from the darkness into the light of hope, thus drenching believers in the love of God.
Major Contemplative Elements in the Portraits

The Book – the Word (John 1:1-5)

The Necktie – the Wise Men / vision, wisdom (Matthew 2:1, 2)

The Necktie Knot – the Voice / Holy Spirit (Acts 2:4)

The Cross – Sacrifice / Redemption (John 3:16)

The Open Door – the Church (Matthew 7:7-14)

Mary, Mother of God – Love and Sacrifice (Luke 3:34-35)

The Star – the omnipresence of God's Love (Matthew 2:9-10)

The Pascal Candle – Faith / "Vivimos para esa Noche"

The Candle Flame – Jesus, the light of the world (John 8:12)

The Empty Tomb – the triumph over sin (Romans 6:23)

The Dawn – the Resurrection (John 11:25-26)

The Lamb – the Second Coming (Revelation 22:20, 21)

"Charlie's" Look – the Good News radiates in the "look" of Blessed Carlos Manuel
Prior to painting the portraits I had the great honor to meet with Blessed Carlos Manuel Rodriguez' sisters, Hermana Haydée and Titay. At that time they told me that "Charlie" mostly wore a flamboyant necktie. Consequently, In my paintings I transformed his necktie symbolically into the Wise Men from the Christmas narrative in Bethlehem. Furthermore I portrayed them emanating from the Bible. By and large, the idea was that Carlos Manuel was also a wise seeker of wisdom and truth. To that end, the symbol on the knot of the necktie signifies the Truth given to him through the Holy Spirit for instance, which he spoke most eloquently.
"We need Catholics who are alert to the present moment … modern Catholics who know how to nourish themselves in the past but whose eyes are fixed on the future."— Blessed Carlos Manuel Rodríguez Santiago

Presentation of portrait at Pontifical North American College 29 April 2001

Monseñor Roberto González Nieves OFM, Archbishop of San Juan, presents painting to Rev. Kevin McCoy at Pontifical North American College, Vatican 2001

Cardinal Luis Aponte Martínez presents painting to Puerto Rican "pilgrims" at Pontifical North American College, Vatican 2001

EWTN Interview with the artist "The Church in Puerto Rico: Blessed Charlie"

Video "Vivimos para Esa Noche" by Norma Diaz

Norma T. Diaz Camacho wrote this beautiful song. She was a disciple of Blessed Carlos Manuel Rodriguez, and subsequently the director of the "Coro Peregrino". They sang this song during the Beatification Ceremony at the Vatican in 2001.

"We owe Charlie far more than he owes us" (a true story by Father Bernard F. McWilliams C.SS.R.)