On Sunday we celebrated "The Good Shepherd"
"My sheep hear my voice, and I know them. They follow me and I give them eternal life… (Jn 10:27)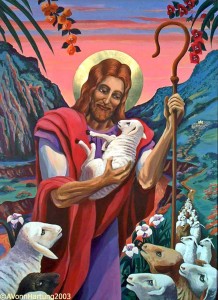 When Padre Jaime Vázquez commissioned this painting, "El Buen Pastor / The Good Shepherd", as part of my research I visited Ochoa Agrícola (agricultural store) in Caguas, Puerto Rico. They have scores of sheep, mostly lambs and yearlings.
I worked among them getting close-up sketches and the feel of them.
It is such an important part of bringing what we paint to life, to know as much as possible the essence of what it is we are making visible, which in reality is merely a thin film of paint on a two-dimensional canvas.
Closeup detail of painting "El Buen Pastor"
(4 x 8-feet)
by
AVonnHartung
, commissioned by Padre Jaime Vázquez Rojas in 2003 for "Parroquia El Buen Pastor" in Guaynabo (Apolo), Puerto Rico