Visualizing "Laudato Si'"
I recently received an email from a theology graduate student at the College of St. Elizabeth in Morristown New Jersey. Eileen Connor Callahan stated that she was writing about the correlations between Pope Francis' environmental encyclical Laudato Si' On Care for our Common Home and my painting On Earth as it is in Heaven: through Him all things were made Jn 1:3 (shown here). Indeed she was visualizing "Laudato Si'" through my painting. For this purpose she went on to ask me a few questions for her paper and slideshow. She presented them in early December 2018.
I painted this work 26 years ago, and it's more relevant now than ever before! I now see it as an aid to visualizing "Laudato Si'".
Certainly, I was inspired because of the deteriorating environmental conditions on this most delicate island, Puerto Rico. Unquestionably Pope Francis' Encyclical Laudato Si' On Care for our Common Home spelled out the environmental problems on a global scale.
Its message was loud and clear!

Undeniably, its message is clear and eloquently stated. Hence, it is a theological clarification of what the science reveals to us. Furthermore, for me Hurricane Maria brought it all into focus!
Some folks think we as an industrial society and economic system have little to do with causing climate change/global warming. But what parents would gamble on their children's lives and future generations if there is a possibility that we can do our best to protect God's sacred creation?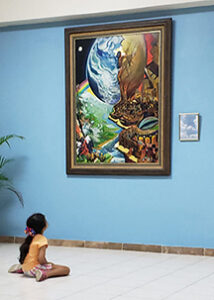 I have become aware that most Catholics/Christians have not read Laudato Si', let alone studied the encyclical. It is clearly written and elegantly concise. What's more, Pope Francis has quoted popes going back to Paul VI, John Paul II and Benedict XVI as well as the research of the most eminent international scientists renown in their fields. But unfortunately it is not being discussed as a prioritized issue in our churches or society in general.
This painting points to Laudato Si' which spells out in everyday language both the environmental and spiritual crisis we are facing.