EWTN (Eternal Word Television Network) will be airing an interview on March 5, 2015 with A.Vonn Hartung about Blessed Carlos Manuel Rodríguez Santiago, and Vonn's experience painting the portrait that is at the Vatican.
THE CHURCH IN PUERTO RICO (30 minute duration)
Thursday March 5 at 3:00 am & 6:30 pm Eastern Time
[Puerto Rico time: 4:00 am and 7:30 pm]
The first 15 minutes of the program is a conversion story about a young man who turned his life around and is now studying for the priesthood; the second part is the interview with Vonn.
The EWTN program can be seen on–
Liberty Cablevision Channel 103 ( in Puerto Rico)
Dish Network Channel 261
DirecTV Channel 350
ROKU
Please visit the EWTN website for channel listings in your local area.
http://www.ewtn.com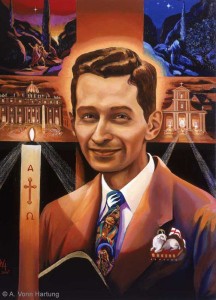 This is the oil portrait of Blessed Carlos Manuel Rodriguez Santiago by A.Vonn Hartung © 2001, presented to the Pontifical North American College at the Vatican on the occasion of the beatification of Carlos Manuel on 29 april 2001, and is on permanent display there in the Hall of Saints.