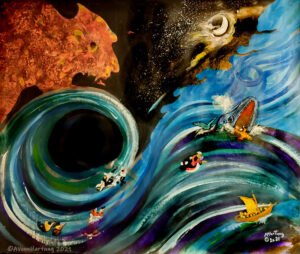 The Fate of Jonah
The Fate of Jonah is a painting and sonnet from my new series "Cries of Creation", inspired by Pope Francis' 2015 encyclical "Laudato Si"
Jonah was a good man from the start

for he saw beauty in all things that lived,

and knew he was of it a part.

He was with God, he lived, he loved and prayed.

Then one day God tested him! This is what He said—

Go to Nineveh, for there they've strayed in sin.

And tell them how they've lost their way.

And teach them how to live, to love and pray.

Now Jonah's knees began to shake,

like a mighty mountain began to quake.

And Jonah that night ran away

on a ship whose course was far apart

from where he knew he should depart

to do what he knew was right.

But doubt and fear had closed his heart.

And greed and self-interest had closed his ears.

The fate of Jonah we must heed

for his redemption is our great need.

To do God's will and change our ways,

for now it's us who've gone astray.

Only fools run from God and try to slink away!

Those of us who were good to start,

who have the sight, who have the heart,

help us Lord not to turn away, but let us turn

and face our fate and know our place.

And live and love and pray!