This Saturday April 29th we celebrate the 16th anniversary of "Blessed Charlie's" Beatification by His Holiness St. John Paul II.
One more miracle will qualify him for Sainthood.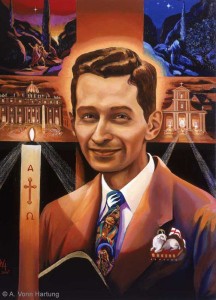 In 2001 I was deeply honored and humbled to be commissioned by the archbishop of San Juan, Monsignor Roberto González Nieves, to paint the official portrait of Blessed Carlos Manuel Rodríguez, to be given as a gift from Puerto Rico to the Pontifical North American College in Vatican City where it is exhibited in the Hall of Saints.
I was subsequently interviewed by EWTN (Eternal Word Television Network)
At the core of Blessed Carlos' spirituality (Pope John Paul II said) was his faith in the Resurrection. He promoted the Easter Vigil as the defining moment of Christian spiritual life, repeating often, "We live for that Night." (Vivimos para esa Noche)