$117.00 – $163.00 price_excluding_tax
A 15 x 22-inch giclee print reproduction of the original painting Breath of Life by A.Vonn Hartung.
So God created humankind in his image, in the image of God he created them; male and female he created them. Genesis 1:27
The painting makes visible our connectedness to the cosmos, our dependency on the elements of nature: the oxygen we breathe, the water we drink, the food we eat and Earth upon which we walk and live our lives.In the lower left of the painting I added a separate panel to symbolize God's gift to us of Free Will and of how we have divided up Creation/Nature into our own design and for our own profit. This has brought us to the Cosmic Climate Crisis in which we find ourselves, best described in Pope Francis' 2nd Encyclical LAUDATO Si'.
Read in Spanish
Y Dios creó al ser humano a su imagen; lo creó a imagen de Dios. Hombre y mujer los creó.
Génesis 1:27
La pintura hace visible nuestra conexión con el cosmos, nuestra dependencia de los elementos de la naturaleza: el oxígeno que respiramos, el agua que bebemos, los alimentos que comemos y la Tierra sobre la que caminamos y vivimos nuestras vidas.En la parte inferior izquierda de la pintura agregué un panel separado para simbolizar el regalo de Dios para nosotros, del libre albedrío y de la forma en que hemos dividido la Creación /Naturaleza, según nuestro propio diseño y para nuestra propia ganancia. Esto nos ha llevado a la Cósmica Crisis Climática en que nos encontramos, mejor descrita en la segunda encíclica del Papa Francisco, LAUDATO SI'.
Description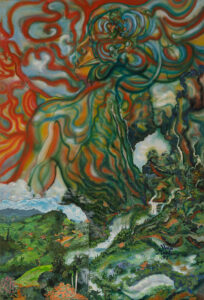 A 15 x 22-inch giclee print reproduction of the original painting Breath of Life by A.Vonn Hartung. It is printed with archival pigmented inks on museum quality gloss canvas. Under optimal lighting conditions the print will last 100+ years.
The print is available in two formats: Rolled and shipped in a tube or Stretched over a wooden frame and shipped in a box.
[For "rolled" prints, an extra 2-inch border is added around the size being ordered, providing extra canvas for mounting.]
NOTE: You do not need a PayPal account. PayPal will direct you to their page where you can enter your credit card information.
SHIPPING—Free Shipping to U.S. destinations including Puerto Rico
For international orders, please contact me for shipping estimate
SALES TAX: On orders to Puerto Rico: 10.5% IVU
Turnaround Time: Please allow 7-10 Business Days
Additional information
| | |
| --- | --- |
| Dimensions | N/A |
| 15 x 22 inch giclee print on canvas | "117. rolled, 163. stretched" |
| Giclee print format | Rolled canvas, Stretched canvas |