$63.00 – $173.00 price_excluding_tax
This giclee reproduction of the original painting "Ukrainian Mother and Child" is filled with contrasts of dark and light, war and peace—the Sacred contrasted by the Profane. The towers of the cathedral of Kyiv (Saint Sophia) are depicted. Significantly the spirituality is expressed in the love of the mother and peace of the sleeping child. On either side of mother and child, are mysterious hands holding up the Sky. The constellations visible at that latitude on the night Ukraine was invaded (Ursa Major, Polaris—the North Star, and Draco the Dragon) are symbols of the Love that comes to protect mother and child, and all Ukrainians with prayers from around the world.
This image was published in 2022 by the European Baptist Federation for their Christmas card.
Esta reproducción giclée de la pintura original "Madre e hijo ucranianos" está llena de contrastes de oscuridad y luz, guerra y paz—lo sagrado contrasta con lo profano. Se representan las torres de la catedral de Kyiv (Santa Sofía). De manera significativa la espiritualidad se expresa en el amor de la madre y la paz del niño dormido. A ambos lados de madre e hijo, hay manos misteriosas que sostienen el cielo. Las constelaciones visibles en esa latitud en la noche en que Ucrania fue invadida (Ursa Major, Polaris—la Estrella del Norte, y Draco el Dragón) son símbolos del Amor que viene a proteger a la madre y al niño, y a todos los ucranianos con oraciones de todo el mundo.
Esta imagen fue publicada en 2022 por la Federación Bautista Europea para su tarjeta navideña.
Description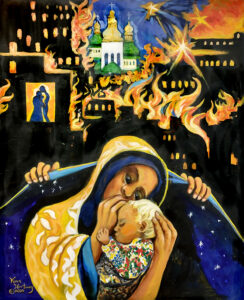 A giclee print reproduction of the original painting Ukrainian Mother and Child by A.Vonn Hartung.
It is printed with archival pigmented inks on museum quality gloss canvas. Under optimal lighting conditions the print will last 100+ years.
The print is available in two sizes and two formats—Rolled and shipped in a tube or Stretched over a wooden frame and shipped in a box.
[For "rolled" prints, an extra 2-inch border is added around the size being ordered, providing extra canvas for mounting.]
NOTE: You do not need a PayPal account. PayPal will direct you to their page where you can enter your credit card information.
SHIPPING—Free Shipping to U.S. destinations including Puerto Rico
For international orders, please contact me for shipping estimate
SALES TAX: On orders to Puerto Rico: 10.5% IVU
Turnaround Time: Please allow 7-10 Business Days
Additional information
| | |
| --- | --- |
| Dimensions | N/A |
| 12 x 15 giclee print on canvas | "63. rolled, 96. stretched" |
| 17 x 21 giclee print on canvas | "126. rolled, 173. stretched |
| Giclee print format | Rolled canvas, Stretched canvas |
| Giclee print sizes | 12 x 15, 17 x 21 |