$36.00 – $130.00 price_excluding_tax
A giclee print reproduction of the original painting First Visit by A.Vonn Hartung.
This is a very interesting and controversial painting. It shows Jesus embracing his mother in her kitchen on the morning He rose from the dead. This is a visualization of the extra-biblical belief that many Catholics have, that Christ visited his mother first, before the empty tomb was discovered on Easter morning.Read More

The reasoning for this is because the Gospel of St. Matthew states that "After the Sabbath, at dawn on the first day of the week, Mary Magdalene and the other Mary went to look at the tomb (Mt 28:1). Clearly the writer of the Gospel of St. Matthew would not refer to Mother Mary as "the other Mary". So, it is probable and would be natural for Christ to have visited His mother first. And as Pope John Paul II famously stated, "…It is legitimate to think that the Mother may really have been the first person to whom the risen Jesus appeared…" Although extra-biblical many western saints subscribed to this belief (Saints Albert the Great, Ignatius of Loyola, Teresa of Avila and Pope St. John Paul II) and it is a tradition in many Eastern Churches. And of course, most mothers, love this Station of the Resurrection.

Esta es una pintura interesante y controvertida. Muestra a Jesús abrazando a su madre en su cocina, la mañana en que resucitó de entre los muertos. Es una visualización de la creencia extrabíblica de muchos católicos— que Cristo visitó a su madre primero, antes de que se descubriera la tumba vacía en la mañana de Pascua. El razonamiento es que según el Evangelio de San Mateo—"Después del sábado, al amanecer del primer día de la semana, María Magdalena y la otra María fueron a ver el sepulcro (Mt 28:1). Claramente, el escritor del Evangelio de San Mateo no se refería a la Madre María como "la otra María". Por lo tanto, es probable y sería natural que Cristo hubiera visitado a su madre primero.Y como declaró el Papa Juan Pablo II: "… es legítimo pensar que verosímilmente Jesús resucitado se apareció a su madre en primer lugar…" Aunque extrabíblico, muchos santos occidentales se suscribieron a esta creencia (Santos Alberto el Grande, Ignacio de Loyola, Teresa de Ávila y el Papa San Juan Pablo II) y es una tradición en muchas Iglesias orientales. Y, por supuesto, a la mayoría de las madres les encanta esta Estación de la Resurrección.
Description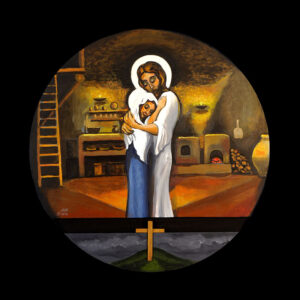 A giclee print reproduction of the original painting First Visit by A.Vonn Hartung. The diameter of the circular image within the 16-inch square is 13-inches. The diameter of the circular image within the 10-inch square is 7-inches. It is printed with archival pigmented inks on museum quality gloss canvas. Under optimal lighting conditions the print will last 100+ years.
The print is available in two sizes and two formats: Rolled and shipped in a tube or Stretched over a wooden frame and shipped in a box.
[For "rolled" prints, an extra 2-inch border is added around the size being ordered, providing extra canvas for mounting.]
NOTE: You do not need a PayPal account. PayPal will direct you to their page where you can enter your credit card information.
SHIPPING—Free Shipping to U.S. destinations including Puerto Rico
For international orders, please contact me for shipping estimate
SALES TAX: On orders to Puerto Rico: 10.5% IVU
Turnaround Time: Please allow 7-10 Business Days
Additional information
| | |
| --- | --- |
| Dimensions | N/A |
| 16 x 16 giclee print on canvas | "90. rolled, 130. stretched" |
| Giclee print format | Rolled canvas, Stretched canvas |
| 10 x 10 giclee print on canvas | "36. rolled, 60. stretched" |
| Giclee print sizes | 16 x 16, 10 x 10 |