Today is Earth Day. What better moment to pay homage to the noble "El Jíbaro", the Puerto Rican cultural icon! "El Jíbaro" symbolizes to me the "salt of the Earth"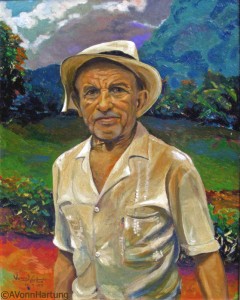 "El Jibaro" is a painting inspired by my neighbors who have cultivated the land of their ancestors from the beginning.
Don Pepe represents for me all those who still cultivate the land; living links to our past, sustenance today and hope for abundance and sustainability in the future.
This painting was inspired by my neighbor Don Pepe "el Múcaro" (the Owl) O'Neill, who I am proud to call my friend. May he rest in peace!
(16″x20″ oil portrait, artist's collection)