In celebration of St.Francis Xavier, Patron Saint of Missionaries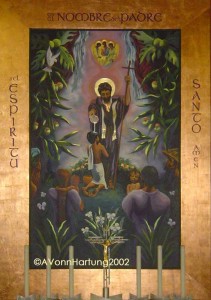 This painting shows the humble Jesuit missionary baptizing a youth
St. Francis Xavier brought more than 30,000 souls into the Faith. Known as the "Apostle of the Indies" and "Apostle of Japan", he is said to have converted more people than anyone else has done since Saint Paul.
Padre Julio Victor García commissioned this painting/retablo in 2002 for Iglesia San Francisco Javier (Trujillo Alto, Puerto Rico). It measures 6 feet in width by 11 feet in height and is my original design. I built it from solid mahogany, painted it in acrylic and gilded with gold and copper leaf.

Symbolic elements of the painting
The vertical format symbolizes this world, our Church and the witness of the life and evangelizing work of San Francisco Javier.
The frame displays the Sign of the Cross with which we as Christians identify ourselves in and through Baptism. It represents the tireless work of St. Francis, from sunrise to sunset. Additionally it shows the eternal truth, the Alpha and Omega of Christ. It acts as a window through which we enter to find further truths.
St. Francis Xavier is baptizing a youth. Significantly the youth symbolizes the future church. Hence we see the people coming to the Faith.
The Holy Family is represented by any and all who do the Will of the Father. Specifically, they are bringing young souls to be saved.
The Children brought forth by their Godparents engage us in reflection and contemplative prayer.
The Holy Trinity: Above the head of St. Francis we see the sacred image of The Holy Trinity. The great 15th century Russian iconographer Andre Rublev.originally wrote (painted) this icon. Its inclusion is meant to draw us into the mystery of God,and to remind us of God's love. Additionally it prophetically reminds us of Jesus' words as expressed in John 15: 26-27 ("When the Advocate comes whom I will send you from the Father, the Spirit of truth that proceeds from the Father, he will testify to me. And you also testify, because you have been with me from the beginning.")
The Background: Surrounding this cascade of divinity with its luminous light and vapors, are luxurious examples of Holy Creation. Specifically the abundance of nature expresses this concept. The breadfruit and mango trees symbolize Love, Beauty and Resurrection. Additionally we see the dove drawing closer, and the serpent which being driven away.
"They who pray with faith have fervor and fervor is the fire of prayer. This mysterious fire has the power of consuming all our faults and imperfections, and of giving to our actions, vitality, beauty and merit." (Francis Xavier)