A.Vonn Hartung will be teaching two dynamic workshops this Summer (Woodcarving and Mosaics) at the Sacred Art Institute at St. Edmund's Retreat on Enders Island in beautiful Mystic, Connecticut on Long Island Sound.
Aerial view of Enders Island, Mystic, Connecticut
July 24-29: Woodcarving
July 30-Aug 6: Mosaics

If you can make it, to start a new hobby or to continue more advanced study, this class is for you!

Although St. Edmund's is a Catholic Order, it is ecumenical in spirit and outreach and all are welcome! Hope to see you there!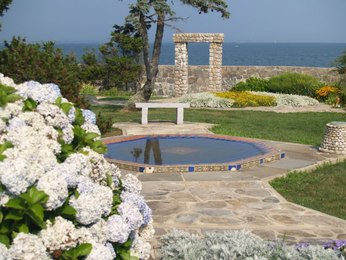 "Described as a 'little known gem' this 11 acre island is surrounded by beautiful gardens framing breathtaking ocean vistas. Home to St. Edmund's Retreat, there is a soulful tranquility to this place that seems to hang in the air with the ocean breezes. There are plenty of garden paths to walk and seaside benches to soak in the sun and saltwater air. It is a short trip into the picturesque coastal village of Stonington, CT., one of the last remaining authentic New England fishing villages…" (Assisi Institute)