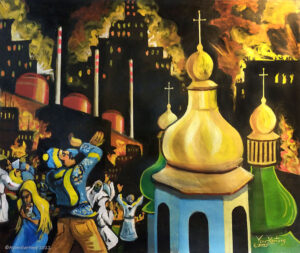 The Bombing of Ukraine
acrylic on canvas 32 x 38 inches
Because we are witnessing the invasion and bombing of Ukraine, I painted this Glimpse of the Sacred juxtaposed to the Profane.
The innocent victims are protected by the sanctity of Saint Sophia cathedral with its magnificent spires shown in the foreground in Kyiv. They are juxtaposed to the shelling near Ukraine's six Nuclear Reactors at Zaporizhzhia nuclear power station, and the devastation and destruction of War.
The Ukrainian people are suffering Terror!
A bombshell killed dozens of people waiting in line for food. Bombs have been destroying buildings and people's homes, even destroying the zoo.
What we are seeing in the resilience of the Ukrainian people is Democracy in Action! Indeed, ordinary people are putting themselves in front of tanks. Farmers are clearing roads with their tractors. Indeed, millions of bombed out families are trying to escape the terrorism of war.
Courageous people around the world are raising our voices against these horrors.
El Bombardeo de Ucrania
acrílico sobre lienzo 32 x 38 pulgadas
Debido a que estamos presenciando la invasión y el bombardeo de Ucrania, pinté este Vislumbre de lo Sagrado yuxtapuesto a lo Profano.
Las víctimas inocentes están protegidas por la santidad de la catedral de Santa Sofía con sus magníficas agujas que se muestran en primer plano en Kiev. Están yuxtapuestas al bombardeo cerca de los seis reactores nucleares de Ucrania en la central nuclear de Zaporizhzhia, y la devastación y destrucción de la guerra.
El pueblo ucraniano está sufriendo Terror!
Una bomba mató a decenas de personas que esperaban en la fila para recibir comida. Las bombas han estado destruyendo edificios y casas, incluso destruyendo el zoológico.
Lo que estamos viendo en la resiliencia del pueblo ucraniano es Democracia en Acción! La gente común se está poniendo frente a los tanques. Los agricultores están limpiando caminos con sus tractores. Millones de familias bombardeadas intentan escapar del terrorismo de guerra.
Gente valiente de todo el mundo está alzando la voz contra estos horrores.