In celebration of St. John Apostle and Evangelist

Today is the Feast Day of St. John Apostle and Evangelist.
He is shown here with St. Mary whom he cared for after our Lord's crucifixion (Jn 19:26, 27) at Ephesus in Turkey, the Isle of Patmos on the horizon where he was imprisoned and wrote Revelation.
He embraces his gospel to his heart in a manner that brings to mind the Cross and Passion of our Lord. His crossed arms also define the shape of a chalice (the sacred blood) and an hourglass, reminding us that Christ is the Alpha and the Omega.
Above the saint flies the eagle, John's symbol of vision and highest inspiration. It carries away a serpent. Legend has it that Emperor Domitian once had the saint's wine spiked with poison which miraculously turned into a snake and slithered out of the cup.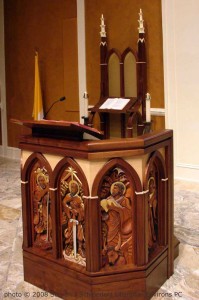 This high relief wood sculpture (12-inches x 33-inches x 3-inches) is one of six saints carved by A.Vonn Hartung for the Ambo of St. Paul's Catholic Church in Pensacola, Florida, commissioned by Pastor Doug Halsema through Liturgical Consultant Dr. Steven Schloeder of Liturgical Environs PC
The saints are all directed towards the center of the Ambo, as though they are again listening to and reliving the truth and reality of Christ Jesus, that because of them and through them the gift of the Holy Spirit continues to live in us in the Liturgy of the Word.
En Español